The Tides of War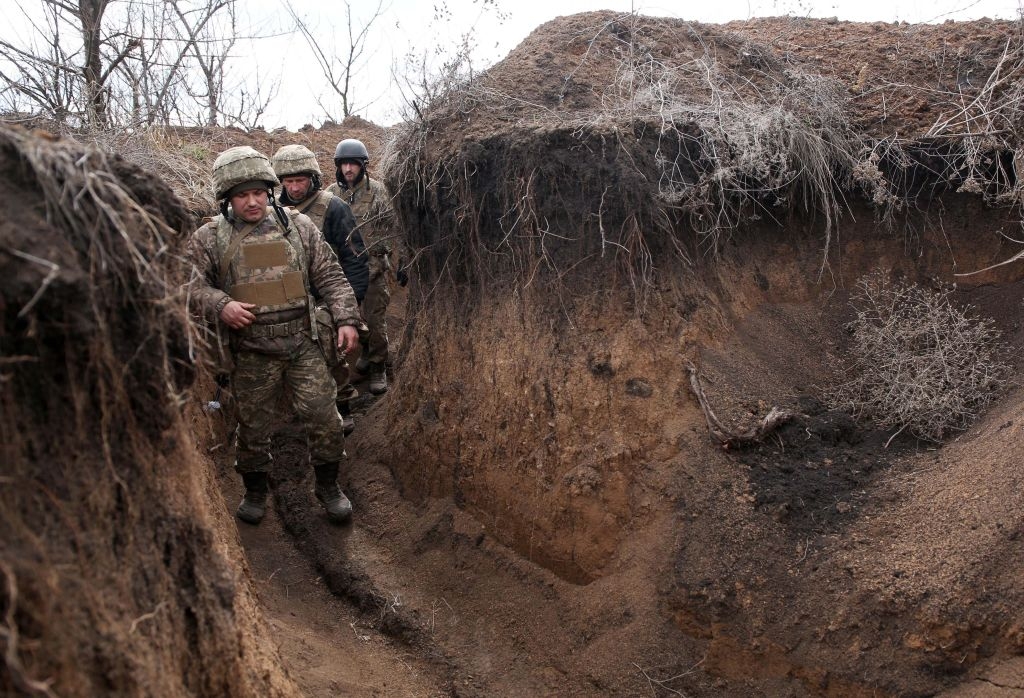 Posted at the Gatestone Institute: "China and Russia: The Guns of April"
By Gordon G. Chang
"All the elements for history's next great conflict are now in place."
Russian troops are massing on the Ukraine border, Chinese vessels are swarming Whitsun Reef of the Philippines in the South China Sea, and China's air force is flying almost daily through Taiwan's air-defense identification zone. Chinese troops for almost a year have been dug in deep in Indian-controlled Ladakh in the Himalayas. Two large aggressors are threatening to break apart neighbors and absorb them.
The Global Times, an unofficial Communist Party tabloid used by Beijing to signal new policies, on April 12 posted a video of Hu Xijin, its editor-in-chief, warning that Beijing would overfly Taiwan—in other words, fly into Taiwan's sovereign airspace—to "declare sovereignty."
The Scales of Justice
Editorial comment: Whether or not any person accused can ever receive due process, a true and accurate finding of facts, and a verdict based in the law, is in question. Doubts are understandably created in environments where there is any attempt to intimidate or otherwise influence one or more parties to a case. This is true whether those efforts are aimed at the prosecution, the defense, the judge, the jury, the victim, or the accused. It is also true whether those efforts are aimed at parties to a case directly, or indirectly by way of harm threatened to a person's family, friends, workplace, place of worship, or surrounding community. Mob action – even the threat of mob action – should not be tolerated. Serious and sobering questions must be raised. We must consider justice within the context of the Constitution for the sake our Republic and every citizen within it. The fact that politicians involve themselves in active cases, despite their leadership responsibilities, is terribly troubling. All of this is before us as a nation, even as we also understand that beneath the great weight of it, are human tragedies involving two men whose life paths intersected on one fateful day, Derek Chauvin and George Floyd.
Posted at Freedom First: "Chauvin's 'verdict-by-mob' on threats from domestic terrorists marks the end of America"By JD Rucker
Posted at The Gateway Pundit: "BREAKING: CHAUVIN VERDICT REACHED – GUILTY OF 2nd DEGREE MURDER, 3rd DEGREE MURDER and 2nd DEGREE MANSLAUGHTER – Guilty on ALL COUNTS!" By Jim Hoft
Posted at Citizen Free Press: "Biden just tampered with Derek Chauvin jury…" By Kane
Posted at The Gateway Pundit: "Kamala Harris Says Guilty Verdict in Chauvin Trial 'Will Not Heal the Pain that Existed For Generations' Due to Systemic Racism (VIDEO)" By Cristina Laila
Posted at the NOQ Report: "Minneapolis Mayor Jacob Frey taints jury by implying Derek Chauvin killed George Floyd" By Blaine Traber
Posted at the National File: "Minnesota Law Enforcement Source Reveals Thugs Threatened to Murder 100 Police Officers" by Jack Hadfield
Private Property Rights
Posted at the Mises Institute: "The Sword of Damocles Hangs over Every Property Owner" By Connor Mortell
Election Integrity
Posted at Populist Press: "Lin Wood Just Announced Major Victory Today"
Posted at The Gateway Pundit: "DISTURBING DEVELOPMENT: Windham Officials to Choose "Windham Incident" FORENSIC AUDITOR in SECRET!" By Jim Hoft
Government Accountability
Posted at the Mises Institute: "Biden's Big Spending Plans Will Not Revive the Economy" By Frank Shostak
Energy Independence
Posted at One America News Network: "Sen. Manchin: Democrats Turned Their Back On W. Va." By the OAN Newsroom
Border Security
Posted at Populist Press from the Washington Examiner: "Arizona governor declares state of emergency and surges National Guard to border" By Jake Dima