Important Issues
News covering the most important issues of this time, including political persecution, is linked below and organized by subject areas. You'll see that the balance of coverage will adjust with the unfolding of events and changing conditions through the days, weeks, and months ahead. Our goal is to keep our readers informed and connected with the media in ways that help everyone to build a bigger and more complete picture of the world in which we're living – and in so doing, to encourage lifestyles dedicated to awareness, self-sufficiency, and preparedness.
We hope you'll share – in every good way – with others. Do this with dignity, respect, and courtesy. Make places for differences in viewpoint, and individual perspective. Learn to listen, and practice this skill daily. Life is not a one-size-fits-all experience, and each of us can learn from those whose journeys have been different from our own. Stand on the right side of history. Do so with confidence, and humility. Thank God for every blessing in ALL THINGS.
Election Integrity
Posted at CD Media: "BREAKING: Maricopa County Deleted Entire Database 10 Days Prior To Turning Over Equipment To Audit" By CD Media Staff
"Maricopa County deleted entire databases prior to turning over election equipment to the AZ Senate for the forensic audit now occurring. The Senate President Karen Fann today sent a letter to the County Election's Board for an explanation. The letter can be seen on the tab below." Download the letter HERE
Posted at The Gateway Pundit: "First Georgia, Now Arizona – How Many More Secretaries of State Illegally Certified Their 2020 Election Result Without Having Legally Mandated Chain of Custody Documentation on Every Ballot?" By Joe Hoft
Posted at Peter Narvarro: "The Navarro Report" By Peter Navarro, PhD
"The three volumes of the Navarro Report provide a demonstration that President Trump had a good faith belief that the November 3, 2020 Presidential election results, were, indeed, the poisonous fruit of widespread fraud and election irregularities…" Download the full Navaro Report HERE
Posted at Just the News: "Election integrity revelation: Detroit bragged that use of Zuckerberg funding 'created new normal'" By Natalia Mittelstadt
"We have created a new normal in terms of how voters expect to vote in the City of Detroit," reads the report. "The funding structure established must be preserved for future elections. We are requesting grant funds for the current year." Download the City of Detroit Grant Report HERE
Justice in America
Posted at Information Liberation: "'Who Executed Ashli Babbitt?' Rep. Paul Gosar Grills Fmr AG Rosen; Demands to Know If Nick Fuentes Put On No Fly List" By Chris Menahan
"Who executed Ashli Babbitt?"@RepGosar pushes former acting AG Jeffrey Rosen for answers on the death of Ashli Babbitt on Jan. 6. pic.twitter.com/PWw0locNqo

— Washington Examiner (@dcexaminer) May 12, 2021
Posted at NOQ Report: "BRAVO: Rep. Paul Gosar Stands Up for Ashli Babbitt, Demands to Know Who Executed Her" By JD's Curated Links
"Babbitt was an an unarmed Air Force veteran who was shot at close range by a Capitol Police officer during the protest. Her killer has never been named and the Department of Justice has decided that he will not be charged.
During the hearing, Gosar asked Rosen for the name of her killer. He referred to Babbitt as "a young lady, a veteran, wrapped in an American flag that was killed in the U.S. Capitol.""
J.R. Nyquist
Posted at J.R. Nyquist: "When the Lion Kills the Fox; Or, When Rosencrantz and Guildenstern are Dead" By J.R. Nyquist
Another outstanding essay… don't miss the discussion below the post.
Socialism, Communism, and Color Revolution
Posted at Townhall: "Biden is Burning America Down" By Spencer Brown
"Joe Biden is on a mission to destroy. Decked out in aviator sunglasses and a very questionable grasp on reality, the president is set on ushering in a wave of radical changes that will give Democrats unfettered ability to silence opposition and a blank check to fund their leftist pet projects."
1st Amendment, Free Speech, Censorship, and Cancel Culture
Posted at Judicial Watch: "SMOKING GUNS: Government Officials Push Big Tech Censorship"
Border Security
Posted at The National Pulse: "'Alarming Uptrend': Border Patrol Continues Intercepting Felons, Sex Offenders At US Border" By Natalie Winters
"Last week, agents arrested a man who had been convicted of sex crimes in New York. "Taking him to a nearby Border Patrol station for processing, record checks revealed that the Mexican national had been previously convicted of Sexual Abuse in the 1st Degree by Forcible Compulsion," Customs and Border Protection (CBP) notes. "The man also was a registered sex offender in New York State," the agency added."
Israel
Posted at The Gateway Pundit: "THOUSANDS Protest in Chicago Against Israel Carrying Palestinian Flag – Chanting for Israel's Destruction" By Nick Mastrangelo
COVID-19
Steve Bannon's War Room: Steve Bannon's Interview with Colonel Lawrence Sellin
Posted at The National Pulse: "EXC: Fauci Funded Researchers Headlined Wuhan Lab 'Gain of Function' Conference" By Natalie Winters
"Recipients of grants from Dr. Anthony Fauci's National Institute of Allergy and Infectious Diseases headlined a Wuhan Institute of Virology conference focusing on "gain of function research and gene editing," The National Pulse can exclusively reveal. "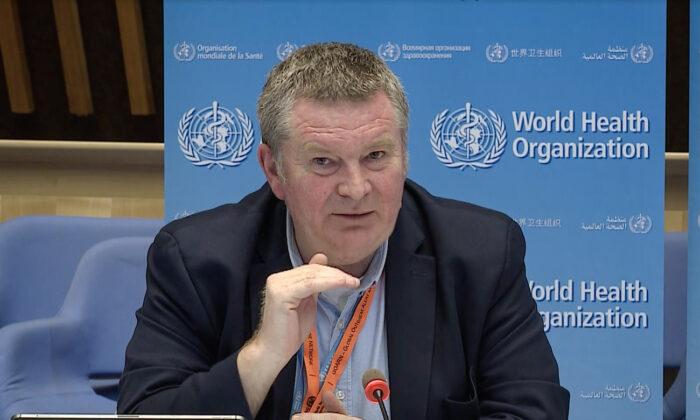 Posted at The Epoch Times: "WHO Official Glosses Over China's Draconian Handling of CCP Virus Pandemic, Calling It 'Comprehensive Approach'" By Meiling Lee
"A World Health Organization (WHO) official on May 10 claimed that China's "comprehensive approach" has contained the transmission of COVID-19 in the country, while glossing over the Chinese regime's heavy-handed methods used throughout the pandemic."
China
Posted at The Washington Free Beacon: "Kerry Admits Slave Labor Fuels China's Green Energy Supply Chain" By Adam Kredo
"During testimony before the House Foreign Affairs Committee, Kerry was pressed on his recent comments suggesting that China's ongoing genocide against the ethnic Uyghur minority should not "get in the way" of a climate deal. Some 80 percent of the world's solar panels are produced in China, and the United States has determined that at least a portion are made by Uyghur slave laborers in the country's Xinjiang province. Asked about the issue, Kerry was forced to publicly acknowledge that slave labor fuels the green energy market."
Iran
Posted at The Washington Free Beacon: "Biden Pressed to Cancel Iran Talks as Tehran-Backed Terrorists Attack Israel" By Adam Kredo
"More than 40 Republican senators led by Marco Rubio (Fla.) petitioned the White House late Wednesday to "immediately end negotiations with Iran, and make clear that sanctions relief will not be provided," according to a copy of that letter exclusively obtained by the Washington Free Beacon. "The United States must not do anything to enrich Israel's enemies, such as by offering sanctions relief to a regime that seeks to destroy Israel," they write."